The altar at Wat Lao Sayaphoum is resplendent with a large central Buddha donated by the Phapphayboun family and countless other items given by the community.
Monks chant during the evening ceremony at a gilded, highly ornamented temple in Laos. This is the magical, sacred space referenced at Wat Lao Sayaphoum. (Luang Prabang, Laos)
Pi Mai, or Lao New Year, is celebrated in mid-April. To welcome the rainy season and bring good luck, people young and old spray each other with water.
This young girl is pouring water in a trough shaped like a naga, or protective snake. The water will gently flow out and wash the temple's Buddha figures, a Pi Mai tradition.
Three young girls, dressed as princess in traditional Lao clothing, pose with teenagers following the Pi Mai princess parade.
Morganton's resident monk, Somchit Sengdavone (left), and two visiting monks from Charlotte receive blessings from the laity at the Pi Mai celebration.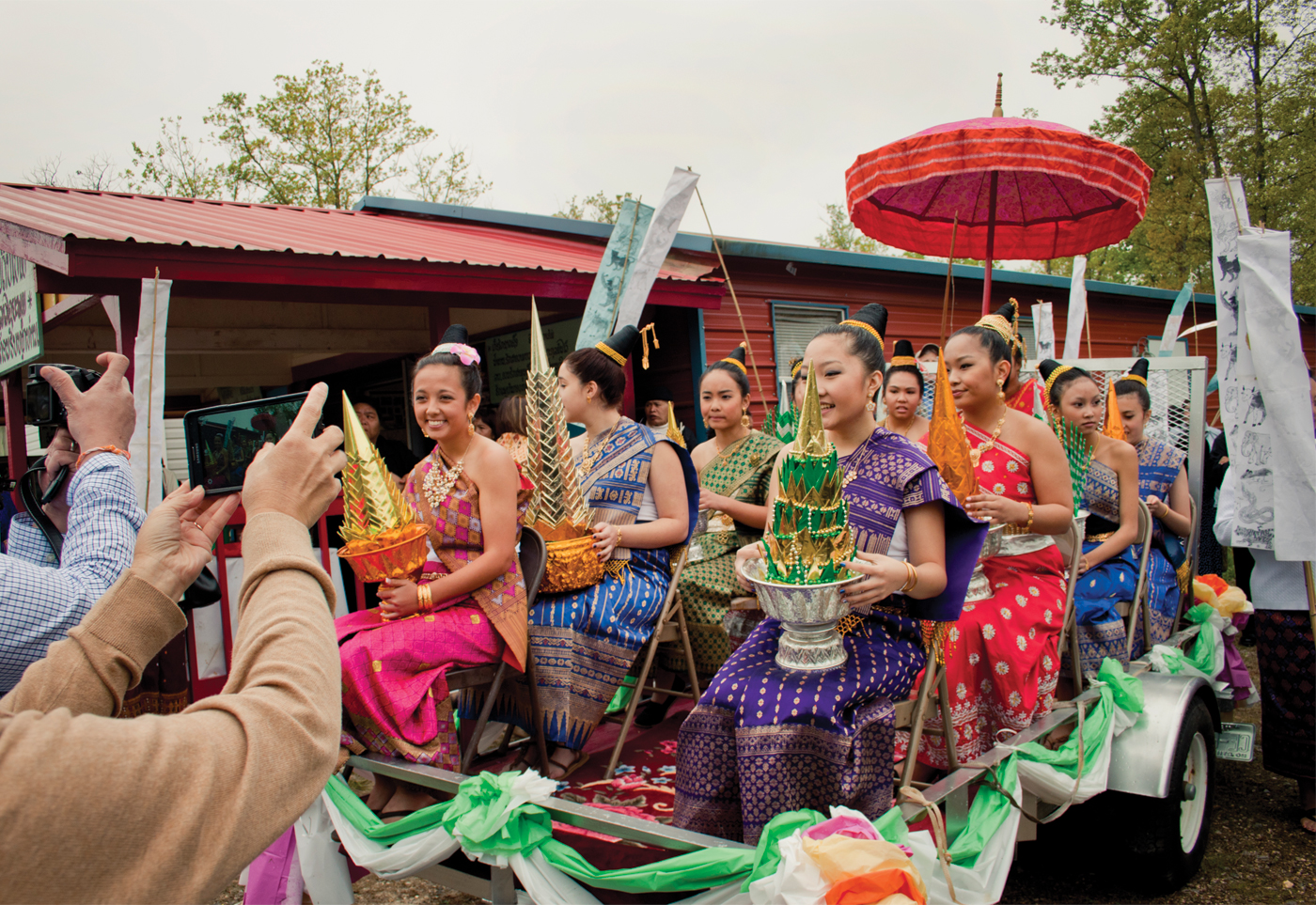 At Pi Mai (Lao New Year), the Morganton community reenacts an old folktale with seven (or more!) girls dressed as princesses.
The monk's home is a double-wide trailer and the worship space at Wat Lao Sayaphoum is in a transformed carport.
Morganton's resident monk, Somchit Sengdavone (left) with an elder visiting monk, the Venerable Jhiteeyanao.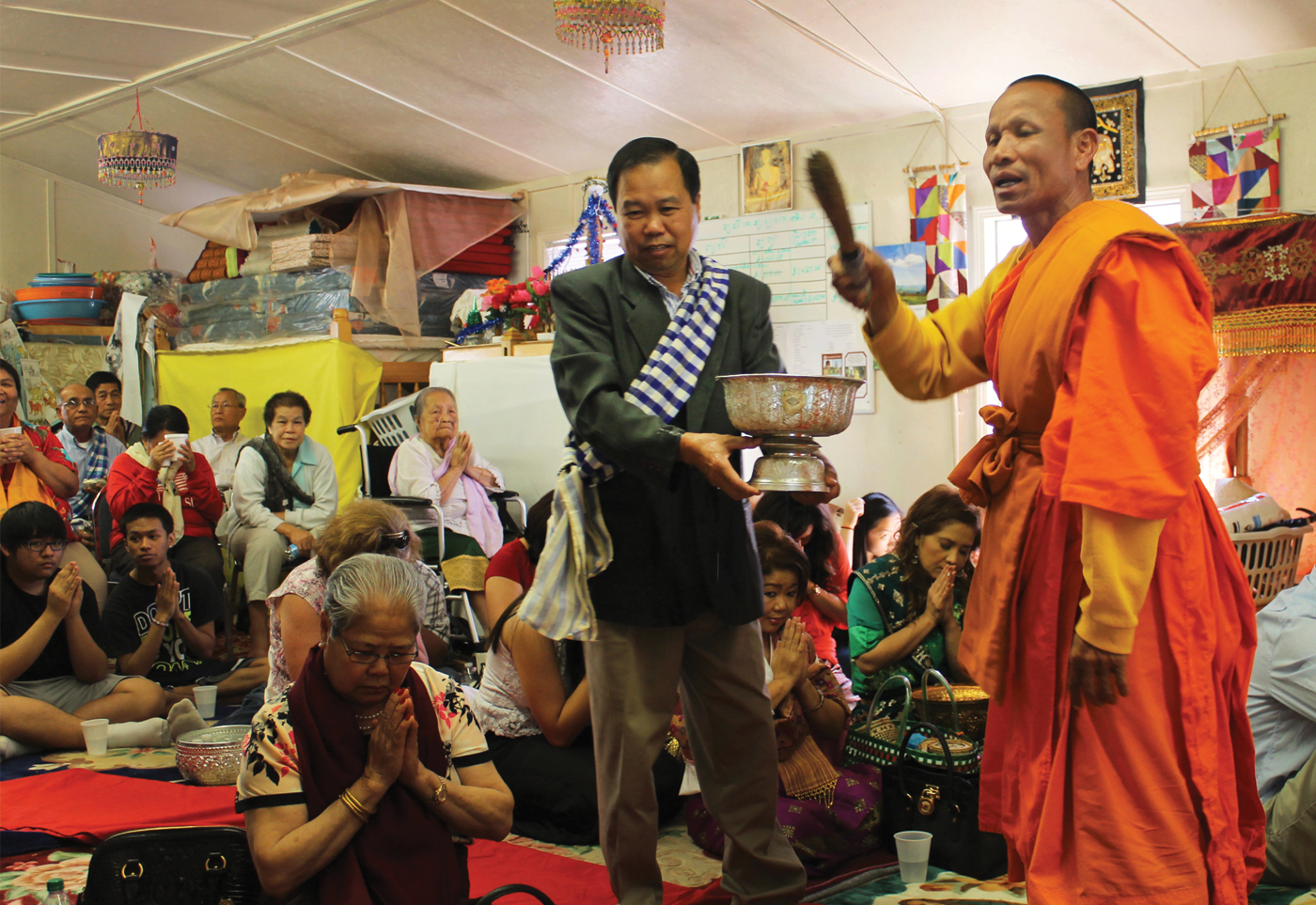 Morganton's resident monk, Somchit Sengdavone, blesses worshipers by sprinkling water during the Pi Mai ceremony.
Marigolds are the primary flower for offerings in Laos. Their name, dauw heuang, means "shining star." (Vientiane, Laos)
Food is central to giving, and giving is central to Buddhism. Garlic and ginger placed at Buddha's feet underlines the connections between food and Buddhism. (Vientiane, Laos)
The monks of Morganton accept home-cooked meals four times a week in place of walking the streets at dawn for their daily alms. Somchit Sengdavone (left) and Somphet Souriyavongsa (right).
A view of Asian Fusion Kitchen through the adjacent grocery store. This restaurant is run by the Phapphayboun family's youngest daughter, Daraphone Phrakousonh.
Chilies for sale at the Hickory, NC, flea market. Peppers, sticky rice, and other Asian vegetables are farmed by Hmong in the surrounding region.
Daraphone Phrakousonh, owner of Asian Fusion Kitchen, donates pho to the Morganton temple to sell and fundraise at large festivals.
The Phapphayboun celebrate Vietnamese New Year (Têt) to honor Noubath's father. The centerpiece of the family table is always a whole barbecue pig.
Toon Phapphayboun's mother, Noubath, presses leftover sticky rice into patties to dry in the NC sun and fry into crunchy crackers.
As an expansion of my article in Southern Cultures Spring 2016 Documentary Arts issue, I curated a photo exhibit of my MA thesis research at UNC-Chapel Hill's Center for the Study of the American South (Spring-Summer 2016).
This project has been published in Southern Cultures, the Southern Foodways Alliance's Gravy (print and podcast), Our State, Carolina Arts + Sciences, and has been featured on WUNC's The State of Things and on the UNC-Chapel Hill homepage.