The exhibit included a history of the Scrap, a timeline of the Lakewood neighborhood and shopping center, and visions for the Reuse Arts District designed by NC State architecture students.
Some of the historical promotions for Lakewood Amusement Park, Lakewood Shopping Center, and the Center Theater.
The exhibit opening coincided with the opening of a time capsule buried in 1966 at the occasion of the opening of the Center Theater, where The Scrap Exchange now operates. Contents and the capsule itself were displayed in the exhibit.
Imaginary artifacts, photos, and personal quotes brought a neighborhood history timeline to life.
"Sometimes I would literally buy my groceries based on what containers we needed in the grocery store at Busy Street." — Paula Januzzi- Godfrey, Busy Street
"Santa would fly in on a helicopter and we always had a Santa house at Lakewood."—Shirley Few, widow of Ran Few, original Lakewood Shopping Center developer
(Interviews by Katy Clune & Julia Gartrell, photos by Katy Clune.)
"Women wore heels and dresses to go shopping. Not gloves. Hats, maybe."—Elaine Davis, Davis Bakery
"I remember that Woolworth's sold the best vanilla sundae I've ever had." —Mayme Webb-Bledsoe, Duke-Durham Neighborhood Partnership
(Interviews by Katy Clune and Julia Gartrell, photos by Katy Clune.)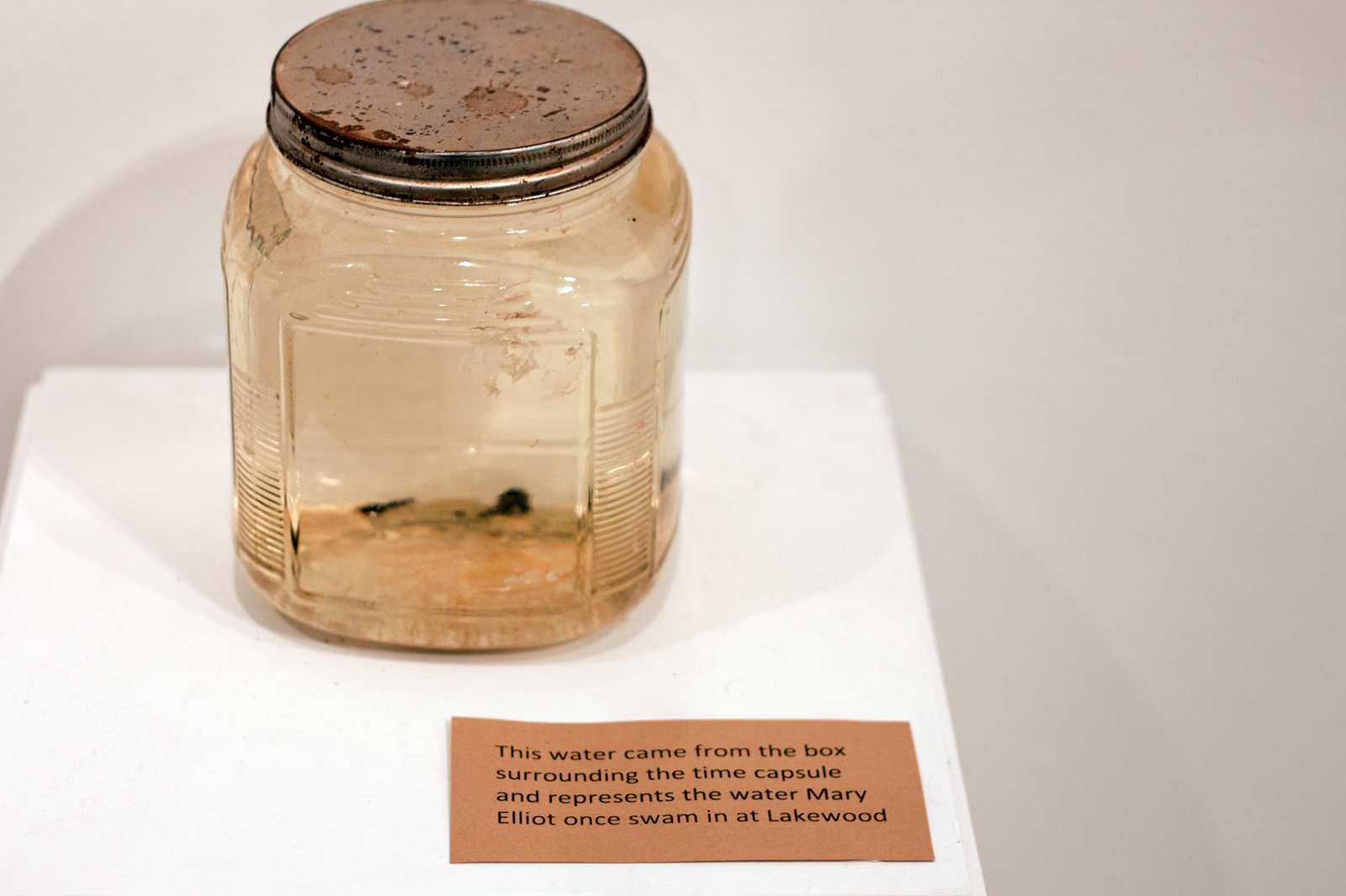 "La gente se siente tal vez agradecida de que ese edificio todavía sigue movimiento como en los viejos tiempos. diferente negocio, pero siempre hay trafico de gente ahi ordenado." | "People feel grateful that this building still has life, like in the old days. Different business, but there are always people here." – Antonio Rodriguez Segundo, Taqueria La Vaquita

"Me dicen: "Ya no extraño tanto a Mexico con esa comida." | "They tell me: 'With this food, I don't miss Mexico as much.'" – Elvia Apolonio, Azteca Grill
(Interviews and photos by Victoria Bouloubasis.)
"If you can physically improve the neighborhood and get people together in a way that doesn't drive out those who've been there a long time, then that's an accomplishment."—Cliff Bellamy, Reporter for the Durham-Herald Sun
"I pray for the folks that come and do their businesses that they keep it in a way to maintain the thread of the community." — Ricardo Correa, Pastor, Centro de Alabanza Naciones Unidas
(Interviews and photos by Katy Clune and Julia Gartrell.)
"The new shopping centers are what hurt this area. When they opened South Square, everybody went out there." —Travis Parker, Food Lion and Winn Dixie
"RAD will be the one-stop-shop for the Reuse Revolution."—Ann Woodward, Director, The Scrap Exchange
(Interviews and photos by Katy Clune and Julia Gartrell.)